Death of Prince Philip was announced
узнать больше
The Telegraph website mistakenly published a story today suggesting that Prince Philip had died.
The page was titled:
HOLD HOLD HOLD Prince Philip, Duke of Edinburgh, dies aged XX
Imam at centre of Spain terror cell had links with Madrid bombers
It was initially spotted by Guardian writer Rhiannon Cosslett, who tweeted that it was a "Royal f*ck up".
The article, which now redirects to a story on Prince Philip meeting Royal Marines, also appeared in some of the top News stories in Google. 
It's not the first time a news outlet has mistakenly published a story claiming the Duke of Edinburgh had died. Earlier this year The Sun published a story titled:
At least 42 civilians 'killed by US-led air strike' in Raqqa
Prince Philip dead at 95, how did the Duke of Edinburgh die, etc etc.
It appeared in a number of search results for quite a while.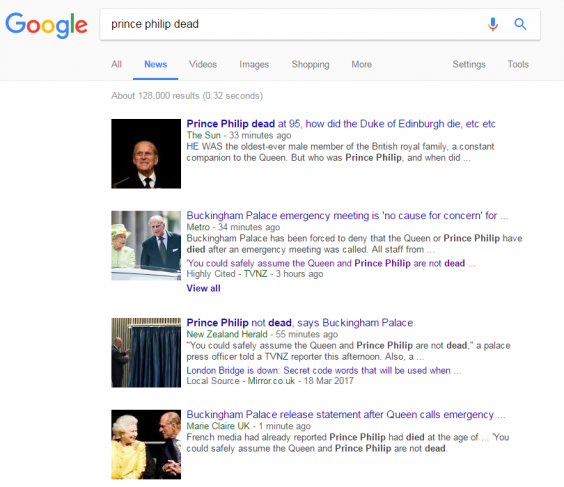 Prince Phillip will be making his final public engagement later today before he retires from his royal duties. 
The 96-year-old announced that he was stepping away from the spotlight earlier this year after years supporting the Queen and the royal family around the world. 
BBC News report that the Duke of Edinburgh has completed a staggering 22, 219 solo engagements since 1952, with his final one taking place today as he meets servicemen who have taken part in a 1,664-mile charity trek.
Police fire tear gas at anti-Trump protesters
Prince Philip does still have the opportunity to attend certain events alongside the Queen on an ad hoc basis in the future. 
Barcelona terror cell 'planned much bigger attack on Sagrada Família'
узнать больше